The following is a very detailed account of a recent trip to Alaska. This is probably way more information than anyone needs, unless you are planning a trip like this. I felt that most reports don't go into the details and that this might help those people thinking of going to plan accordingly and have some idea of what issues that may be faced. If your not planning on a trip like this, but just want a general idea, please just scroll down and take a look at the pictures.
When I first started fly fishing three or so years ago, my wife bought me the book "50 places to fly fish before you die" Of course all the places in the book look great, but the one I zeroed in on was a wilderness camp in Alaska called Alaska Wilderness Safari (AWS). The short description in the book caught my eye because it was described as a rustic camp located in a remote section of the Alaskan Peninsula that could only be accessed by plane. This camp was on the Pacific side of the Peninsula. The Alaskan Peninsula is the mainland start of the Aleutian range of islands I had heard that other places in Alaska such as Kenai had great lodges and fishing outfits, but it could be crowded with fisherman, guides and float planes fighting for the prime spots. I don't know if this is true or not, but just the suggestion of fishing in a crowd was the antithesis of what I wanted for my first trip to Alaska.
So with this limited knowledge, I began my research on the place. I found that AWS was one of the outfits that were advertised in the Fly Shop's catalog. I checked on the internet and found nothing negative. Then I found out the author of the book "50 place to fly fish…" was coming to the Book Passage in Corte Madera so my buddy and I went down and talked to him. He told us that the fishing was truly some of the best Salmon fishing that could be found. I expressed some reluctance about catching Salmon on the fly because I felt that it could be a disappointment after my successful Steelheading trip to the Babine last year. However he said that AWS was best known for its Silver run and that since the fishing was done within several hundred yards of the ocean, the fish were fresh and full of fight. Ok, starting to sound real good. The only thing was that the ownership had changed and he could not vouch for the new owners but he had heard that people were still coming up with positive reviews of the place.
The cost of the camp is $4,900 a week which includes the flight from King Salmon to camp and back out. It also includes two helicopter fly outs to two other rivers north and south of the camp. All meals and booze are included.
My buddy Mark and I decided that we would go for it and Mark also invited another friend of his to go. However, the camp was booked for two years out but we felt it was worth the wait and we made our reservations. The guy that now owns AWS is Russ Schwausch and my emails back and forth to him proved to me that he knew what he was doing and that he was really into his operation. He always responded quickly to what I refer to as the stupid question emails that the guy must get from every first timer to camp. Although his website is comprehensive, we none the less would email questions to him that were already answered simply by reading the site. I guess you get used to this when you run a fishing camp.
So all we had to do was wait until we could book our flights on Alaska Airline. We had to get to the town of King Salmon, where we would then take a small single engine bush plane out to the camp. So the flights finally came up on the internet with a fare of $500 from SFO, Seattle, Anchorage and then King Salmon. I thought that was a pretty good price, so I called Mark and said let's go for it. Mark said that our third guy, George, was out of town for a couple of days and he would check with him when he got back and confirm this would be the fight plan for us. In the meantime, Mark was checking to see if United could get us there on his miles since Mark runs his own business and has a ton of air miles. When George got back a few days later, we decided that the Alaska Air was the best price and schedule so I went back on line to book it. To my horror, the price for the ticket had jumped in three days from $500 to $1,050. @#$&!!!!!!. So we went back to our search for a frequent flyer way to get there. Eventually, we all were able to get a free flight to Anchorage but we all had to purchase the flight from there to King Salmon which cost about $500. Little did I know at that time that surprises and changes were to become the norm for our Alaska adventure.
At last the day came to leave. From SFO I flew to Seattle and then to Anchorage. I met up with Mark and George there and we made it to King Salmon where we were to call the place we were staying and they would come and pick us up. However there was no answer and the phone just kept ringing which worried us a little but we were able to get a quick view of the center of town while trying to figure out was we were going to do.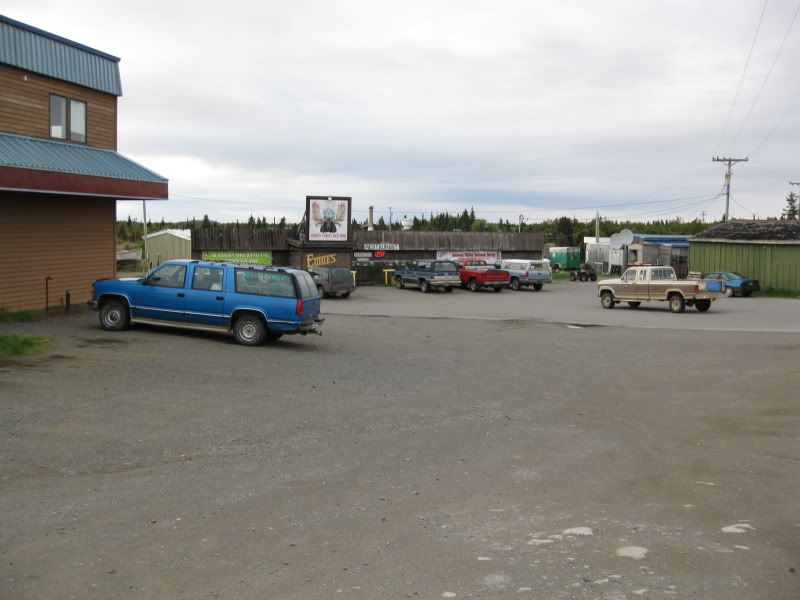 Downtown King Salmon
We eventually got in touch with Heather, our host at the Creekside Inn. She said that they lost power and that was why the phone was out. She told us to hang on and a van would come by shortly and pick us up. It showed up with three other guys who had just helicoptered out of the camp a day early. These guys told us the weather was great and the fishing was unbelievable. We would eventually find that for us, the first would not be the case but the second would be true.
Heather's Creekside Inn is really her house where she rents out the rooms. It is a nice house situated on a hill which sits directly at the bottom of a "U" on a river. She and her husband Ty just had a baby. Before the baby, she was a bush pilot for the air haul company we were flying with. Heather's house was very comfortable and both she and her husband were very nice. Unbeknownst to us when we checked in, we would have occasion to get to know Heather and her husband better. By the way, from what we heard about the motels in King Salmon, we were lucky to stay at Heather's. Again, it was very comfortable and relaxed and we felt welcomed.
The next morning we were shuttled to the hanger of Egli Air Haul in order take a Cessna 206 to camp. There were supposed to be two planes to take the whole group of nine people to the camp. However, because of mechanical problems, one of the planes could not fly so we would have to go in three separate runs. Two runs would be for the people and the third would ferry the luggage on the last run. The weather was bad, with winds, rain and limited visibility. Another problem was that the plane had to land on a beach but the tide would make the beach inaccessible at times during the day. So along with weather conditions, high tide would take away the beach and the plane had to plan around the availability of the beach.
Mark and George with the Cessna 206 outside the hanger in King Salmon
With two guys from Idaho, George, Mark and I prepared to go. We got into the plane with only what we had on plus waders, boots, rods and poles because with the other plane out of commission an extra flight with luggage would be necessary later in the day. The winds had picked up but visibility was ok. As we took off the winds buffeted the small plane. We began a bumpy ride over flat tundra, heading south east. We followed the flat tundra over a never ending scene of scrub grass, small shallow ponds and huge lakes. Although it was flat, the winds bounced us along for what was a very unpleasant ride. About an hour into the trip, we saw snow capped mountains up ahead. The tops were obscured by the clouds and rain. The pilot, Bill, began to follow streams up through the valleys heading into the mountains as the mountain tops hung unseen high above us. We wound and wound through the valleys making our way up to the cloud shrouded pass ahead. The plan was for us to fly though the pass where we would eventually follow more valleys and rivers down to the ocean and then follow the coastline to the camp.
As we were making our way up the valleys, the winds became increasingly strong. We began to be bounced around like a ping pong ball bobbing in the surf. First down, then up, then to the right or left and then both up, down and sideways. I felt sick for quite a while but had refrained from throwing up. However, now even getting sick was overshadowed by the fear I was beginning to feel. I hate to be overcome with fear so I play a game where I conceptualize that the fear is a physical thing and just take it out of my heart and put it away somewhere. However, this was not working. There is nothing to distract you from your situation. You don't have to concentrate on flying, driving or walking, so all you can do is sit there and hope it gets better. As we got higher into the pass, we continued to get knocked around even more. Pens, charts, clipboards began flying around in the plane.
There was not a human sound in the plane. All you could hear was the wind and the strain on the engine as it was pummeled by the winds. When I would look at the guy next to me, our eyes met, but we did not say anything. It was really getting bad. And then we got hit by a horrific gust of wind. I can't really remember what exactly happened but it first felt as if the plane had flown into a giant vacuum and with no air to create the lift, it just fell. Then there was a giant bump as everything and everybody in the plane headed up to the ceiling. Then the plane nosed down and all I remember is looking through the front windshield and seeing the ground quickly approaching. Remember, we were not that high to begin with. We were not just following the valleys, we were in them.
Bill fought the controls for what seemed like a long time but in reality was probably not more than a few seconds. The plane leveled out and banked to the right. All we heard was Bill say "we're going back". No one said a word and all I could think was thank god! I like to think I don't give up easily, but I had the white flag out on this one and I was relieved until I realized that we were not yet on the ground and we still had to come down the valley that just seconds ago we were going up. However, we made it out of the valleys without much trouble with the exception that now the fear had subsided and three of the guys got sick in the plane and we were running out of barf bags. Although I did not throw up, I was definitely sick and felt so until the following morning.
We made it back to King Salmon and the trip was called off until the next morning. Heather had room for us, so we stayed there again. We fished the river outside her house but the weather made it unpleasant and we did not catch anything. We grabbed a taxi to go out to dinner that night. We told our driver that the weather had grounded us in King Salmon for the night and he said "Did you hear about the guys that flew out this morning and the wind was so bad that their plane turned over and almost crashed?" We told him we knew all about it.
The next morning the wind had subsided but the rain and ceiling were worse than the day before. Our transportation, Egli Air Haul, has the Cessna and they have two helicopters. We were told that the helicopters could fly with no problem with the low ceiling because it could "pick" its way through the mountain passes. Also a couple of the guys in our group were having a very hard time imagining getting back in the Cessna after what had happened the day before. It was beginning to look like if we did not go with a helicopter, we could be stuck in King Salmon for days while the people in the camp where sleeping in our cots; eating our food and fishing our river.
We got word that there were three people at the camp that were willing to pay $200 each to get out of camp. However helicopters are significantly more expensive than airplanes and we were told that the net cost to fly a Helicopter to camp and back would be $2600. That would mean that 4 of us could get to camp for an additional price of $500. We tried to negotiate with the other end because we did not feel that it was right that the others would only put $200 toward the flight, but they would not budge. I said I would do it and the Idaho guys did as well. That left Mark and George and only one of them could go. Mark insisted that George go.
Camp accommodates 9 people and so far we had not met the other 4 and just as we made the decision that Mark would stay behind, the other four came into the hanger. They were told what was happening and they said they wanted to go in the helicopter and they would pay whatever was necessary. But only one helicopter was available and a small beef arose between the groups. But after some discussion, the other group graciously allowed us to stick with the original plan and they would hope for a break in the weather later in the day, or take the helicopter when it got back. However Mark had a big problem if the weather did not break because if the plane could not get out, the helicopter could only take four and Mark would just have to wait alone in King Salmon until the plane could make it in.
So four of us and the pilot took off in the helicopter. Wow, what a difference from the day before. It was a great ride. We soared over the tundra at around one hundred feet to the sound of great music playing over our headsets. No turbulence or buffeting. It was great. We sailed over ponds, lakes, creeks and rivers. As we began to get into the mountains, we saw moose and caribou. As we began to ascend into the mountain, we flew just feet above cascading rivers with waterfalls dumping into them from the high mountains that surrounded us. As we soared over a small cliff, we viewed a meadow with a stream running through it and a herd of around 20 caribou running from the helicopter. Now I have to tell you that I hate to spend money, but by the time this flight was over, I was actually feeling that it was worth the $500.
We easily made it to camp and as we flew over the tidal bay, we could see grizzly bears meandering around the water. We landed and unloaded our few belongings. Remember that most of our luggage was back at the hanger and we would just have to wait for a break in the weather in order for the plane to bring it in. I quickly set up my rod and silently said "screw you" to the three cheapskates who now took off to go home in the helicopter.
We went down to the tidal flats and began fishing. A couple of the guys began catching fish and I soon caught my first. A bright, beautiful chum salmon about 6 or seven pounds and shortly there after I caught my first silver. The first thing that I noticed was that the take was not as explosive as a steelhead. The grab was a gentle to strong pull to which you would make a hard strip set. At first I thought….hmmmmmm. But then the fight began. The silvers can go absolutely crazy. They run and most of them become aerial. This fish had sea lice on them proving that it had just come from the ocean which was just hundreds of yards away. George had also caught a nice fresh chum that we kept and ate for dinner, thus allowing us to taste the difference between the chum and the silver. I frankly would not be able to tell the difference in a blind taste test, although I agree that the silver is slightly better tasting.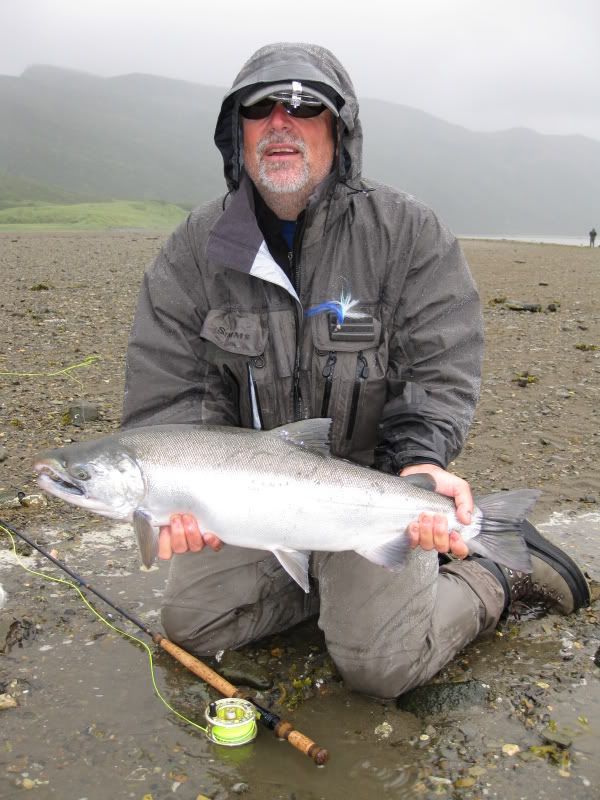 First fish after arrival
Although George and I were catching fish, there was a pall that came over both of us when we remembered that Mark was still in King Salmon and there was nothing that could be done but hope that the weather would break enough for the plane to come in. Sure enough, about three hours later, we heard the sound of the plane and we actually rejoiced that Mark had made it! Now all nine of us were at camp. We had nothing but what we were wearing and our fishing clothing and equipment, but we did not care.
The next morning we woke excited to have the first full day of fishing in front of us. The routine was that coffee would be ready at 7am with breakfast at 8. We would then suit up and head down to the river/tidal flats and begin fishing. We would be divided into groups of three to a guide. Each guide carried a shotgun. The guide would spot fish so we could sight fish to them. However the wind was up and the weather was deteriorating. We fished the morning and although fish were being caught, it was not the fervent action that we had hoped for. The plan is usually to eat lunch on the river, at noon, the wind and rain had kicked up to very strong and heavy so we headed back up to camp for warm soup and sandwiches. We hung out until about 2 waiting for the weather to break but it did not. The other group of guys were from Wisconsin, one by the name of John. A few of the guys went to take naps but John and I grabbed one of the guides and as John said "you got plenty of time to sleep when you die", we took off to the river in a driving rainstorm. When we started fishing the wind was blowing so hard that it was extremely difficult to cast and the rain was pounding on our hoods and backs as it came down horizontally. However, we started catching fish after fish of bright, fresh silvers. Our guide, I think it was Ted, radioed up and got the other guys to come down. They finally got down and there were 9 crazy guys standing in the middle of this crazy weather whopping and hollering each time a silver bolted off with their fly. Funny how catching big fish can make you forget about all the other stuff going on around you. Good thing the guides were always checking around for bears, because one could have walked right up behind you and you never would have heard it with the rain pounding on the back of your hood.
That evening we got up to camp pretty wet and tired. We met in the cook shack and since we did not have any clean or dry clothes to change into, we just decided to rough it out with Johnny Walker and just about any other type of liquor and beer one could want. We had another great salmon dinner, this time almond crusted. That night I crawled into my sleeping bag with the same grey fleece fishing pants that I had been wearing most of Saturday and all of Sunday and Monday. I slept like a rock as the rain would come and go on the top of my tent.
Tuesday we woke up to some rain, but no wind. After breakfast the tide was fairly low and there were no ripples on the water. This is what I had been waiting for. One of the reasons that I really wanted to go on this trip was the opportunity to catch big, fresh silvers on surface flies. I had tied up a bunch of "Lake Marie Popper" and foam "pollywogs" that I could pop on the surface and attract the fish.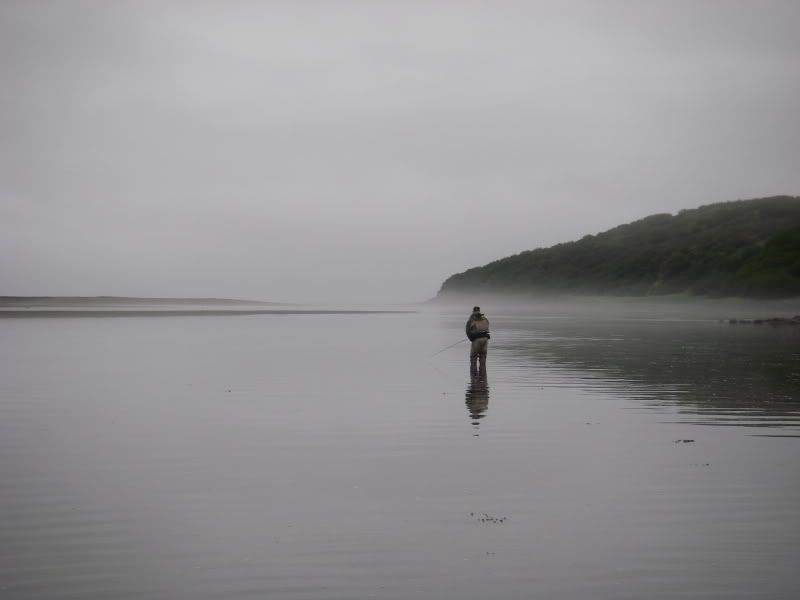 The only calm on the flats that we saw all week
I got down to the water and could immediately see the wakes of fish swimming in the shallows. I sighted a large section of "nervous water" and my first cast went out just beyond it. As I "popped" my Lake Marie back toward me, I saw a wake steadily advance upon my fly. I know not to change the speed of the retrieve and just kept it steady and the wake got closer and closer. Then as it neared the fly, I could see the dorsal and tail fins breech the surface just as the head of the fish appeared slick in the water. I could actually see the mouth open and take the fly. I did a strip set and the fight was on. The fish jumped two times and then went for a knuckle busting run. I don't know how long it fought me, but I finally landed it. Wow! It was more exciting than I ever imagined. I could go on and on but I don't think I could ever do justice to the actual experience. Again, the take is not the explosion that you hear about when people tell you about big steelhead on the surface. This again is far more subtle. But I don't think that detracts from the excitement and anticipation that you feel as you watch a big fish approaching your fly.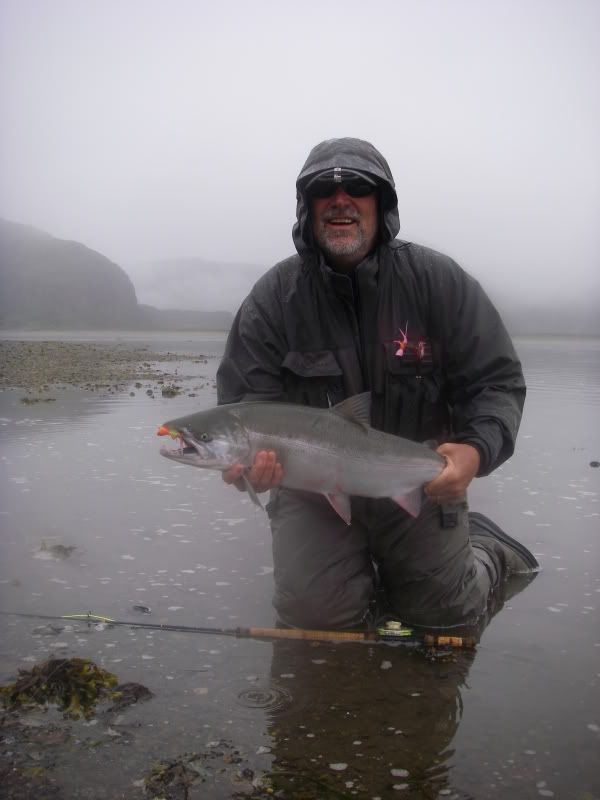 First Silver caught on a Lake Marie Popper
Fishing the tidal flats when you don't have too much wind kicking up the water was fantastic. When the tide comes in, naturally the fish are able to spread out to the vast areas that have gone under water. With the fish spread out in such a large area, the fisherman cannot rely simply on blind casting as he can when the tide is low and the fish concentrated in a considerably smaller area. However, if the wind is down, you can slowly walk the flats looking for the pods of fish that you can see. You can see the pods either by directly spotting the fish or a fin here and there or see the "nervous water". Once you spot them, you just set your sights on them and grabs are easy to come by. I have never fished for bone fish, but I imagine that it is very similar. However, even in choppy water, the best way to fish when the tide is in is by sight fishing. It is much more difficult to spot the fish although the guides are very good at it. I personally had a difficult time in choppy water although as the week progressed, I became a little better at spotting. There were several times during some very windy weather that I was able to see the shimmer of silver beneath the surface, cast toward the shimmer and get a grab.
I was able to fish until about 1 in the afternoon with the poppers. I landed 6 salmon on the poppers and had many more swim toward the fly before veering off without a grab. As the day progressed, the wind came up and the tide came in so fishing was more difficult. I switched to subsurface flies such as crystal buggers and, surprisingly enough, I did very well on the articulated intruders that I had tied up a year before to fish for steelhead on the Babine. Another set of flies that I was doing well with were streamer hooks tied with cross cut rabbit hair and marabou tails. I did these in a variety of colors with pink working well most of the time. But pink was not the only color. I think that I stressed too much about the colors when I was tying the flies and I suggest that an exact color is not as important as having a group of dark flies and a group of light flies because it was dark versus light that seemed to make the most difference depending on the situation. In other words, if one guy was tearing it up with dark patterns, then when others switched to dark, they started catching fish as well without regard to the specific dark color. If light colored flies were working then all light colors seemed to work as well. However that being said, I think that some pink in the fly would prove to be productive regardless if the overall color scheme was light or dark.
On Wednesday we awoke to a brilliant and cloudless day. Today was the day we would form up in groups of three plus a guide and hike up the river with our 5 or 6 weight rods and fish for char or dolly Varden as they are called. Each group would hike up to a section of the river and fish that section throughout the day. My group was to hike up to the farthest and fish the upper section of the river. Although we had been surrounded by grizzlies in the previous days that we were fishing the tidal waters, they were always quite far away and posed no particular concern. However on this day we would be walking through the areas we had been seeing them and we also would now be going through and by wooded areas. The guides encouraged us to yell along with them as we walked up the river in order to let the bears no that we were coming. I have to admit, that I felt a little silly yelling and screaming "hey bear" or "yo bear" as we were walking. As we entered the more confined space of the river valley, we saw one bear at a distance, but none were close.
Following the bear tracks up the river
The walk up the river was very beautiful. It was actually one of the first times that we had a clear view of our surroundings. Waterfalls cascaded into the valleys from the snow covered peaks. The river has no name which I was relieved to find out because all the way up from San Francisco, people would see me carrying the fishing pole and ask what river I would be fishing to which I had to respond that I did not know. The length of the river is something like 10 miles and does not have any resident fish. The river in September is filled with pinks, chum, silvers and sea run Dollys. Apparently the Dollys are the first to come into the river around June. They wait for the pinks to show up and they feed on the row left by the salmon. The aquatic insect life is sparse but we did see little yellow sallies and some size 14 or 16 mayflies. Other than that, not much insect activity and there were very few mosquitoes to deal with.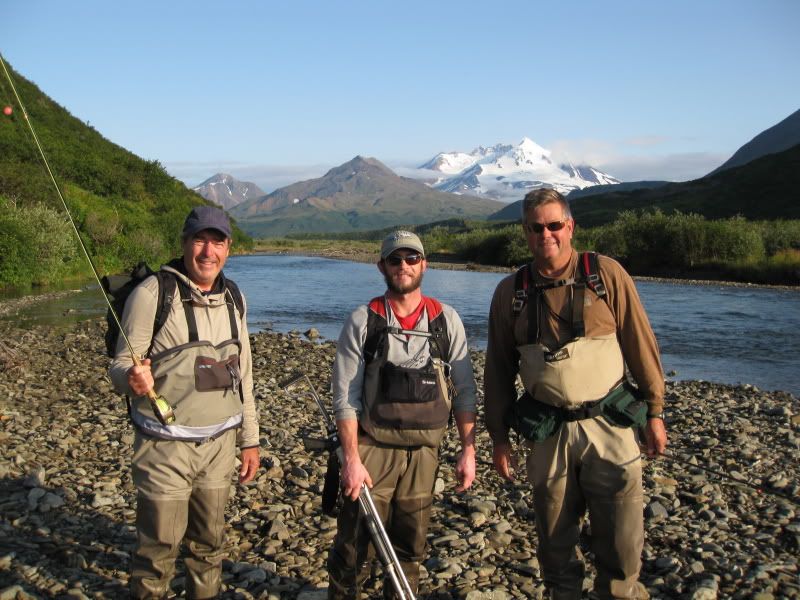 Pete, Jerimy and Ran with the Chiginagak volcano in the background.
Of course, no Alaska fishing story would be complete without a bear story, so here it is. As we were about 45 minutes up the river, we saw a bear running about a hundred yards on the other side of the river. We started yelling, but the bear crossed the river and started to circle around toward us. As this was happening, we spotted another bear heading around us. Thus, we had a bear in front of us and in back of us. The bear in the back just kept on going and we lost sight of him. However the bear in front of us kept approaching. As we were not too worried because after all our well seasoned guide had a shotgun and was well used to these random encounters with the local wildlife. I am not quite sure about the order of the next two events, but Shaun either said "Oh shit!" and racked a shell into the shotgun or he racked the shell and then said "Oh shit!" I tend to think it was the former. No longer shy about yelling the usual phrases at the bear, we all gathered together screaming and waiving our fishing poles in the air. None of this seemed to affect the bear as he kept coming toward us. I had my camera out and set on video and was just about to start rolling when Shaun fired a shot of the side of the bear. As the buck shot hit the ground about 5 feet from the bear, I figured it would leave but this did not seem to bother the bear at all. In fact, it seemed to encourage him to continue toward us. Shaun fired another shot next to it but this time the bear reared up and started to sniff the air. I believe that my thought was: "just how many shells does he have in that gun?" Then, in the most nonchalant manner, the bear just turned away and left. I actually got a video of some of the action but it looks very similar to the Bigfoot video we all have seen.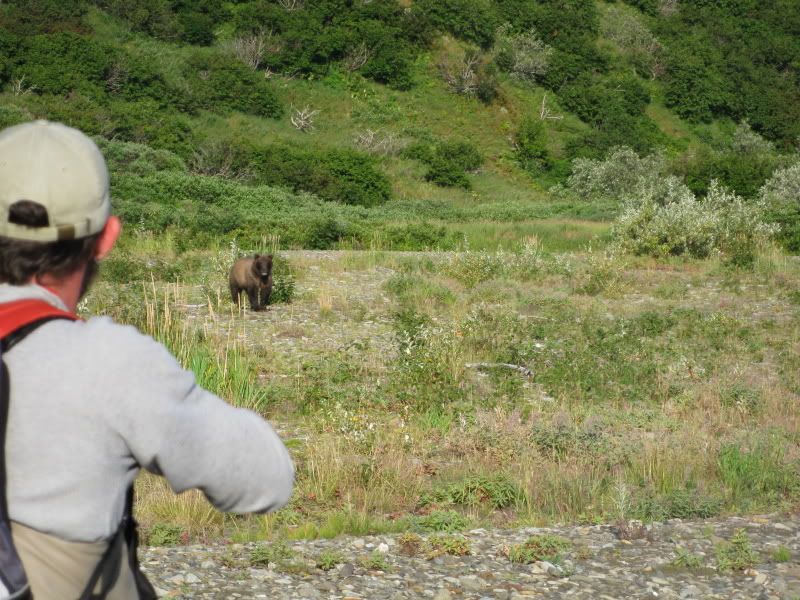 The two shots previously fired at this grizzly didn't phase the bear at all.
After we were sure that the bear would no longer be a problem, we hiked another 45 minutes to the first fishing spot. It was a long run coming from a narrow rapid and I could see the char in the upper part of the pool. We tied our egg patterns onto our leader and immediately began catching char. We caught so many char that it began to become boring. I hooked a few that ripped the line off my 5 weight. These char are nice fighters and beautiful fish and I just wished that we could fish on the surface for them. So I put on a mouse pattern and promptly caught a chum. It was not much of a fight as the chum was on its last legs but it still was cool to catch it on a mouse.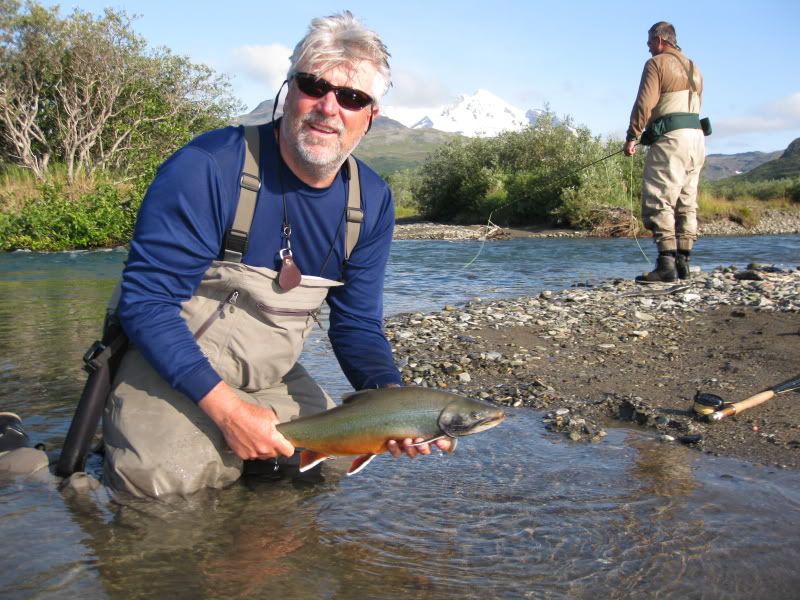 First char of the trip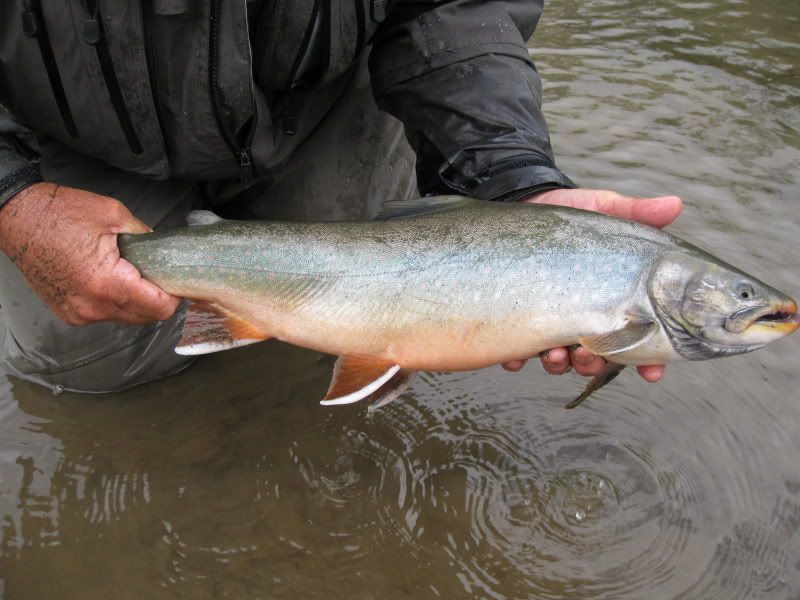 Char caught on the egg patterns
By the end of the day we had caught our share of char. We had passed pool after pool of Salmon on the way down the river and I decided to go for it with my 5 weight. I put on a pink fly and cast it into a pool that was loaded with silvers. After three or so casts I got a grab from a small silver and eventually landed him on the light rod. It was a great fight and a lot of fun to catch such a fish in a small river with a light rod.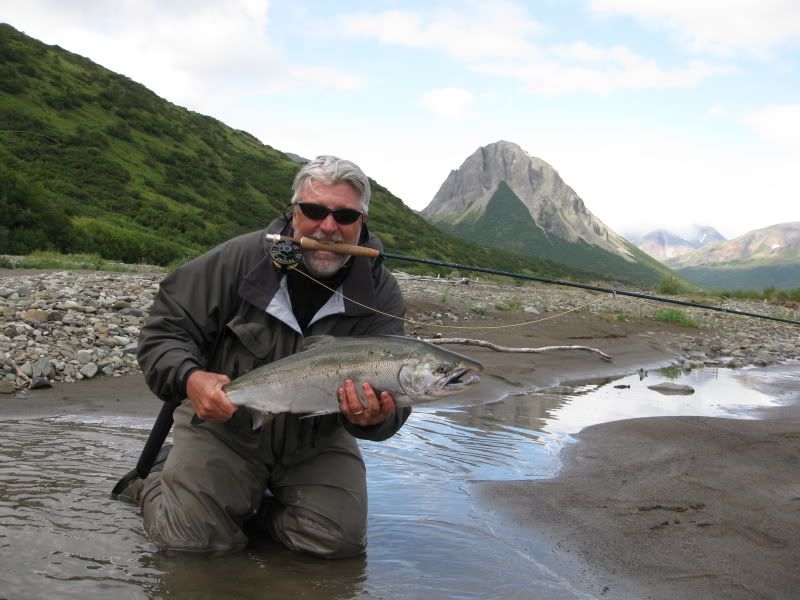 Silver on a 5 weight
Thursday was our first fly out on the helicopter. The plan is for two fly outs for the next two days. We would helicopter over the mountains to the next drainage to the north on Thursday and then south on Friday. We again were in groups of three with a guide. The weather had deteriorated during the night and we arose to another cloudy and misty day. George and two of the guys from Wisconsin decided that they would take the helicopter to a waterfall at the head of the valley and hike back down opting to do a hike instead of fish. Mark and I went over to the next drainage to fish another river with no name. The helicopter left us off on the bank of a river which consisted of a long deep run of several hundred yards. We started to fish from the bank and we began to hook up with very large salmon on the very first casts. It was crazy. Huge salmon were all around the river. If we were not hooking into them, we would see them going crazy and jumping over and over again up and down the river. These by far were the biggest fish that we consistently got into. It was unusual to not get a grab on at least every cast. The fish fought hard and our arms were tired from the constant fights with the fish. As was the case in the waters back by the camp, the initial grab was just a big strong tug, but once the fish realized that something was wrong, the fight was on and these fish put up a tremendous battle. Almost every fish that we hooked went aerial and ripped off a tremendous amount of line. We were spooled, or at least close to it, on a number of occasions. A couple of times, Russ, who was guiding us that day would say that we should move on and we simply would not because we caught fish after fish on just about every cast for around 5 hours. My arms were tired and my knuckles busted from the battles we were constantly fighting. It was the most consistent fishing that I had ever done and all of it was in the middle of nowhere with no one else around. We never even saw a bear that day.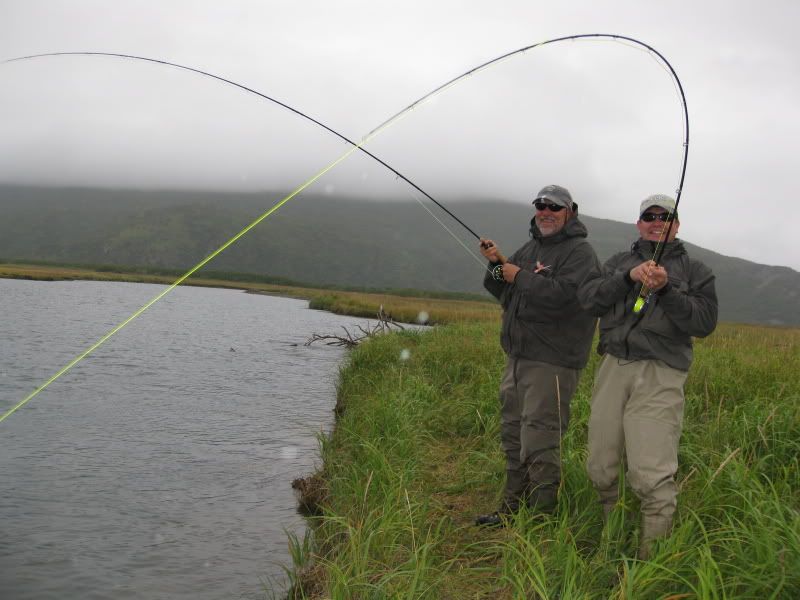 Mark and I with a double hookup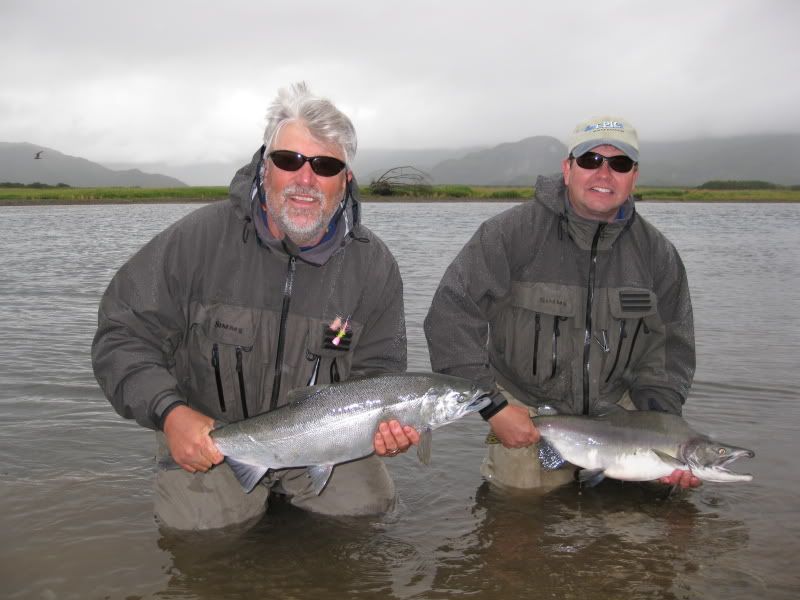 Fresh silver and a classic pink
As the day wore on, we continued to catch fish after fish with the biggest a 16.5 pounder that was caught by one of the guys from Wisconsin. My personal best was a 14.75 pound silver. Mark caught at least two that were as big or bigger.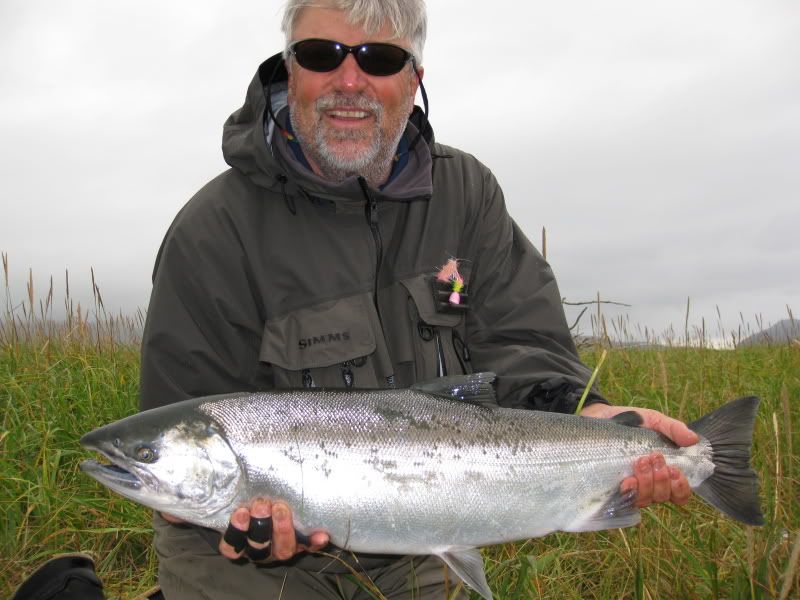 My 14.75 pound fish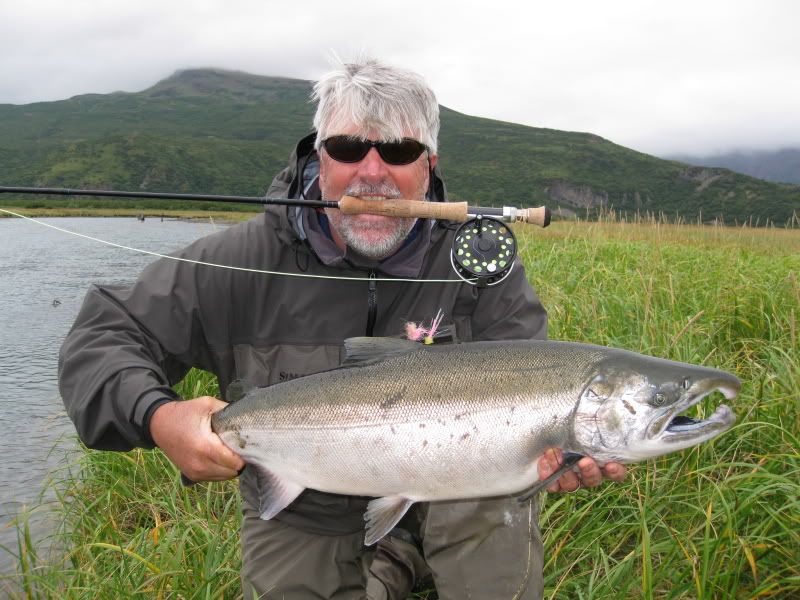 Another beauty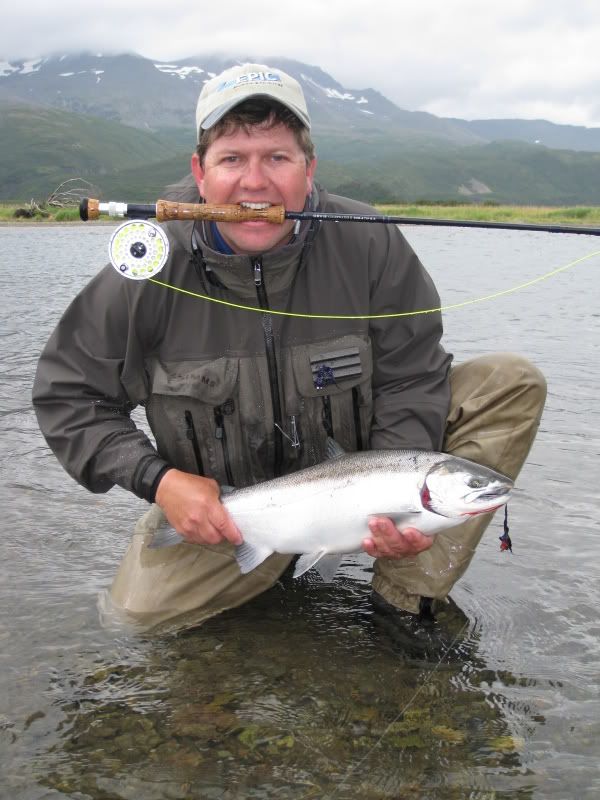 Mark with a silver caught on one of my intruders
Mark with a dirty fish who put up great fight
Russ finally forced us to leave this spot only after we were simply too tired to fight with him anymore. He was right to make us leave because we had to walk quite a ways up the river to the helicopter for our ride home.
That night we listened in our tents to a torrential downpour. We awoke to a constant downpour but the helicopter was able to fly. We were to be the third group out that morning and we anxiously awaited the return of the helicopter so we could load and get right back where we ended the day before: catching a ton of fish. When the helicopter came back and landed, we saw four guys walking back to us. This did not make any sense because the helicopter should have only had the pilot on board since the fishermen would have been dropped off at the other drainage. When the guys got up to us, they told us that the river was blown out and the guide thought that river would continue to rise with the continual rains. We were totally bummed. The day before we had epic fishing and now we could not go back to another river for what we expected to be another great day. We talked a little while and it was decided that there was nothing to do but fish our own river or the tide flats.
It continued to rain and several of the guys went up river to see if it was blown out as well. It was. I stayed behind and fished the tidal area. It was interesting in that although our river was blown out, the tide was coming in and pushing the cloudy water back. So the water in the bay stayed clear. I actually hooked into two fish that ripped off a ton of line before eventually breaking off. I can't for the life of me figure out what was going on, but for some reason my knots were breaking and I was losing some pretty big fish that were not anywhere as easy to catch as they were 24 hours earlier. I fished with the guide Ted for the rest of the day as we fished the flats at high tide. Ted was able to spot some fish in the rather crappy conditions and I caught around four fish the rest of the day. The fishing was disappointing to say the least but we covered a lot estuary that I had not previously seen which I enjoyed doing.
Russ offered the option for three guests to fly back with the helicopter on Friday. Because of the crappy weather, most of the guys wanted to do that. There is really nothing to loose since people are leaving the next morning anyway and there is limited if any fishing on Saturday. The only down side is that you have to find a place to stay in King Salmon on Friday night which can be somewhat of a problem and is an extra expense. There were a couple of guys that really needed to be out so the group drew straws to see who would get to fly back Friday. Since I was in no hurry and had no plans for the next week, I opted out of the drawing.
On Saturday the weather was bad again. It became clear that the plane was not going to be able to get over the passes due to limited visibility. That meant that more charges would have to be incurred for the helicopter to come in to get us out. Unlike the people in the camp the week before us, our group expressed a strong desire to get out on Saturday and agreed to pay an additional $500 each for the ride out. Since I did not have to get back I balked on this one feeling that the folks coming in should bear a greater responsibility just like the four of us had the week before. I don't begrudge Russ for this situation because it is Alaska and you can't expect him to bear the brunt of weather related problems. He is very clear on his website that the weather can and many times does cause delays that will affect your trip. However, it would be nice to have a balanced approached to the situation so that the group coming in does not have to engage in satellite phone negotiations with the group going out. I have a few thoughts on this and I know Russ is grappling with it as well, but I don't think there can ever be a perfect solution.
Eventually Russ worked it out as equitably as he could and we packed all our stuff into the helicopter and took off. We were fortunate in that it was just three of us in the helicopter and we were able to get all our gear into it. The other group would go out in another helicopter but for some reason, they would not be able to get all their gear in. So the plan was for their gear to come out with a third helicopter flight that would be going at the end of the day. The plan was that they would get there luggage in plenty of time for the 7:30 flight out of King Salmon. But as usual, nothing is usual in Alaska.
During our flight back, we found out that we were going to meet the Cessna 206 at a remote landing field in the tundra. We would then exchange places with three of the guys coming in who would then take the helicopter over the passes to the camp while we would continue to King Salmon in the plane over the tundra where visibility was not a problem. The plan included fueling the helicopter at this remote landing strip. It seems that these bush pilots stash 50 gallon barrels of fuel all over the peninsula so they can cover a variety of missions and contingencies. We landed on a dirt strip with some old abandoned buildings and waited for the plane to arrive.
The plane arrived about 20 minutes later and taxied up to us. Bill, the helicopter pilot, went to the plane and we could see he got pretty agitated. We found out that the plane was to bring the pump for the fueling of the helicopter, but one of the essential components was not there. Bill could not fuel the helicopter so he had to change plans and head back to King Salmon to fuel up. He was not a happy camper. We took off in the plane and made it to King Salmon about a half hour later. When we landed we found out that Bill did not have enough fuel to make it back to King Salmon and he had to land out on the tundra and radio for the other helicopter to bring him fuel. So we left the hanger knowing that there was Bill and three guys who had been anxious to get to camp sitting out on the tundra waiting for fuel and also that our Wisconsin guys were not going to get their luggage on time for the flight back home. They would have to have their luggage shipped back to Wisconsin by the mail.
So that's my detailed account of our trip to Alaska. It was quite an adventure. I believe that if we would have opted to go to one of the well known lodges on the Kenai, we would not have experienced much of the drama and setbacks. But then again, I don't think it would have been anywhere near the fun, excitement and great fishing. Had we had better weather, the fishing would have been exponentially better which is incredible since it was very good as it was. There just can't be better fishing than we had on our fly out day and my goal of catching silvers on the surface was met during the 5 or so hours that we had calm while on the flats. Even the Char fishing expedition up the river was an incredible experience. But for me, the best part of the trip was the remoteness of the area. This is what makes AWS special and this is also what causes the problems that should be expected if one is considering going. In fairness I have to say that we were the first group all summer to have these types of weather related problems, but it seems that after the end of August, the weather issues become more prevalent.
It can't go without saying that the staff is top notch. Phil, the cook, does a great job considering that he is in the middle of nowhere and totally dependant upon the weather for his supplies. The guides are knowledgeable, friendly and accommodating. There was the time that John (Wisconsin guy) and I looked at Ted and asked to go fishing (Russ will not let anyone fish without a guide and a shotgun) when all the others where huddled up in the cook tent because of a driving storm. Without any hesitation or nuance at all, he happily went out and actually got us into fish. I would even hint that perhaps we should go in, but he would always say that he liked being out on the flats fishing and was happy to stay as long as John and I wanted. I think he really meant it so it made for an enjoyable experience.
Also, staying in tents, especially when the weather is as it was, is a damp experience. Nothing really gets dry except for your waders and jacket that you leave in the dry tent where a wood stove is lit to warm and dry things for the next day. Your sleeping and living tent is clean and as comfortable as a tent can be. Small worms crawl up the sides of the inside of your tent because even the worms want to get out of the rotten weather. You sleep on a cot with a sleeping bag and liner that goes in it. There is no electricity and all you have is a battery powered lantern. The outhouse is a hole in the ground covered by a tent and you signal folks that it is being used by hanging your hat on a pole that can be seen from the main part of the camp. There is a shower with hot water in the shower tent but the after your first shower, the towel that you have never gets dry again.
Would I do it again? Yes. In fact, Russ is all booked up until 2011 when we have made our reservation. I have some mixed feelings on the way Russ has opted to do his reservation system. It is first come, first served with no priority for "frequent flyer" guests. I say I have mixed feeling because perhaps if Russ had another policy, we would have never got in. Also, it forces us to explore other camps in Alaska so we can't get in a rut by going to the same place over and over. On the other hand, I really like the way that Pierce Clegg does it at his trout and steelhead camp on the Babine. If you are fortunate enough to get a week at his camp, you have first priority for that week the next year. I like that approach because I think that it allows the guest and Pierce to develop a special relationship that goes on for years and it keeps you coming back not only because the Babine is special, but also because Pierce makes it feel as though you are a part of the Babine instead of just passing through.
AWS is not for everyone, but if this type of thing is for you, it is pretty darn good. I hope that this report provides people with all of the information that one needs when considering a trip to a wilderness camp such as AWS.